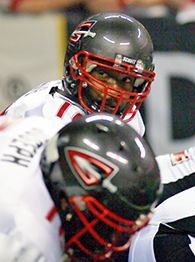 Shaun King showed up at One Buc Place three weeks ago as a man without a team.

Quarterback jobs were drying up around the NFL, so King, who became an unrestricted free agent in March, reported for orientation and voluntarily workouts without a contract.

His show of faith paid off Friday when he signed a one-year deal to stay in Tampa Bay and compete for a job backing up starter Brad Johnson. It will be the first time in the St. Petersburg native's four-year career that he's played in the same offensive system two consecutive seasons.

…Once depleted at quarterback with the loss of Rob Johnson, who signed with Washington, the Bucs now have five QBs on the roster. King will compete with former NFL starters Shane Matthews and Jim Miller for the No. 2 role.
…As a rookie in 1999, King helped lead the Bucs to the NFC Championship Game against St. Louis after starter Trent Dilfer and backup Eric Zeier were injured. When he became the full-time starter in 2000, the Bucs finished 10-6 record and lost a wild-card playoff game at Philadelphia.
— Katherine Smith, The Tampa Tribune "King, Bucs Agree To 1-Year Contract"
King appeared in three games for the Bucs in 2003, his last season with the team. He completed 15 of 22 passes for 130 yards. He spent 2004 with the Cardinals, losing both of his starts for the season, and then briefly signed with the Lions and Bengals during the 2006 off-season. He later reappeared in the AFL (for the Las Vegas Gladiators) and the CFL (spending 18 days with the Hamilton Tiger-Cats).