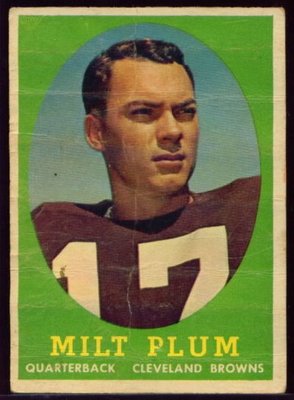 In 1971, a man named Don Smith was flying over Kansas, naturally, when he came up with the basic formula for the passer rating. People think up some weird stuff flying over Kansas. He wanted to devise a system where 100 would be really good. That's one of the reasons why the thing is so complicated.

Essentially, the quarterback rating involves four questions:

What percentage of passes does the quarterback complete?
How much yardage per pass attempt?
How many touchdown passes?
How many interceptions?

The lowest score is 0.00, but to do that you would have to throw an interception on every single pass. Priest Holmes missed the only pass he threw this season. For that, he has a 39.6 rating. You essentially get 39.6 points for not throwing an interception. It's like the 400 points the SAT gives you for signing your name.

The highest score you can get is 158.3. To do that, you need to:

Hit 77 percent of your passes.
Get 12.5 yards per  pass attempt.
Hit 12 touchdowns for every 100 passes.
Throw no interceptions.

That's it. That will give you the "perfect" rating. Of course, it's not really perfect. But it's as high as the system goes. In other words, if you hit 100 percent of your passes, get 30 yards per pass attempt, throw 28 touchdown passes in a game and have no interceptions, you will still get only the 158.3 perfect rating.

Doug Flutie is the last quarterback to throw a perfect game. He was 20 for 25 for 366 yards and three touchdowns against Seattle in 2000. That's a 158.3.

Steve Young has the highest rating in a single season (112.8) and in a career (96.8). Joe Montana is second in both categories. Len Dawson had a higher quarterback rating (82.6) than any of the great quarterbacks of his era, including Bart Starr (80.5), Fran Tarkenton (80.4), Johnny Unitas (78.2) and Joe Namath (an astonishingly low 65.5).

The greatest ratings season ever might be by Milt Plum in 1960. In a time when even great quarterbacks routinely threw as many interceptions as touchdown passes and misfired often, Plum hit 60 percent of his passes, threw 21 touchdown passes and had only five interceptions. His 110.4 rating that season is higher than Dan Marino, John Elway, Brett Favre, Kurt Warner, Roger Staubach, Dan Fouts or Terry Bradshaw ever had.
— Joe Posnanski, The Kansas City Star "NFL's quarterback rating difficult to comprehend."